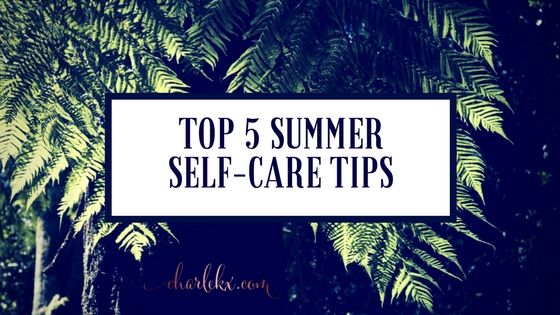 1.) Take a break from technology! There's something to be said about taking time off from technology. Most of us reach for our cell phones as soon as we wake up, we keep checking social media throughout the day, we binge watch our favourite shows on Netflix. What if we choose to intentionally detox from tech once in a while? One of the best things you can do for your self-care this summer is unplug a bit. Take a day off of technology each week and give yourself a chance to reconnect with yourself and your loved ones. Be present and connected with those you love. Hug them, hold their hand, look into their eyes, listen to the cadence of their voice. You'll be caring for them as you work on caring for yourself too.
2.) Participate in playful activities! This is a fun one! What summertime activities did you love as a child? Riding your bike, doing cannonballs into the pool, jumping hopscotch; roasting marshmallows over an open fire? This is a great time to re-connect with your inner child and enjoy those activities again! You get active, you introduce your kids to something you once enjoyed, you smile and laugh together and make beautiful memories this summer.
"Be present and connected with those you love." [Tweet this]
3.) Plan a staycation! There are so many fantastic things to do locally in the summer. Wherever you are, grab your family, put them in the car and go do something fun together. Laugh, take pictures, make memories. The important thing is that you're taking the time to do something to fill your cup. At a loss for where to begin? Try and attend any summer festivals with music, food and fun — those are three simple ways that are good for nurturing the soul.
4.) Spend time near water! There's something about being by a body of water. Bring a good book, sit and allow your cares to drift away. There's something about the sound of moving water that's thoroughly soothing to the soul.
5.) Savour fresh produce! In the summertime, many delicious fruits and vegetables are in season, so challenge yourself to try a new fruit or veggie every single week! You'll enjoy the yummy goodness of seasonal produce and your body will absolutely love it.