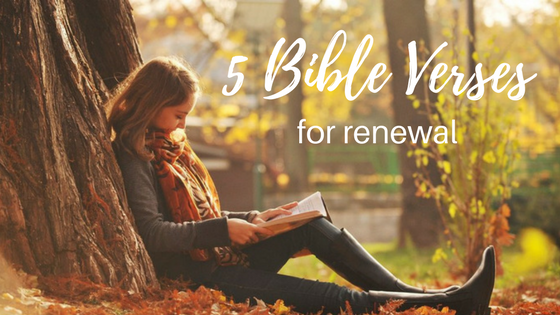 Have you ever gone through a time when the thoughts that continually whirl around your mind are critical, overwhelmingly negative and limiting? This kind of stinking thinking can be exhausting. If you are looking for a way to begin to begin to renew your mind, these tips and scriptures can be beneficial to you.
The first thing to do, to begin your renewal, is to ask God to cleanse you and fill you to overflowing with His holy spirit. Ask that He guard your thoughts and direct your mind to focus on what He would have you think about. Thoughts that are honouring, pleasing and filled with thankfulness.
Next focus on God's word. Read scripture that focuses on renewal. Verses like these 5. Want a handy copy of them for yourself, directly download your free copy here: 5 Bible Verses for Renewal
1.) "Yet those who wait for the LORD Will gain new strength; They will mount up with wings like eagles, They will run and not get tired, They will walk and not become weary." Isaiah 40:31
2.) "And do not be conformed to this world, but be transformed by the renewing of your mind, so that you may prove what the will of God is, that which is good and acceptable and perfect." Romans 12:2
3.) "Create in me a clean heart, O God, And renew a steadfast spirit within me." Psalm 51:10
4.) "Forget the former things; do not dwell on the past. See, I am doing a new thing! Now it springs up; do you not perceive it? I am making a way in the wilderness and streams in the wasteland." Isaiah 43:18-19
5.) "The faithful love of the Lord never ends! His mercies never cease. Great is his faithfulness; his mercies begin afresh each morning." Lamentations 3:22-23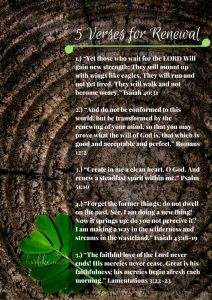 Finally, take comfort in the fact that God loves you! He is happy to walk with you through whatever you are going through. He wants to help you. Spend time praying and listening to Him; then ask Him for the strength to walk where He's leading you. To keep your mind firmly focused on His amazing plans for you. Guard your mind sister, let go of limiting beliefs; let go of stinking thinking. Instead, allow yourself to focus on how much God is eager to begin to renew you.