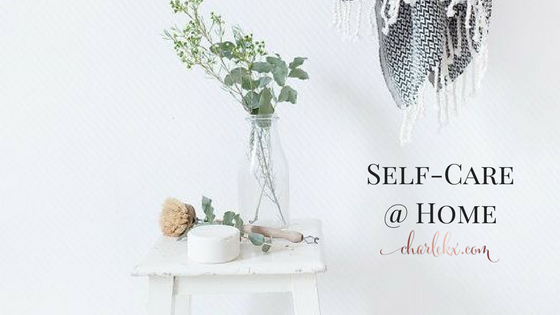 There is something remarkable about being completely relaxed.  Something about your mind, body and soul feeling thoroughly soothed. Something phenomenal about experiencing a renewed sense of invigoration and wellbeing.
As much as you'd love to go to the spa every week, you know there's not enough time or money to do so. There's good news though! You can create your own luxury spa experience right in the comfort of your own home.
Why not start your spa experience with some light stretching and a cup of herbal detox tea while filling up your bathtub. Then take a couple minutes to repeat some affirmations to yourself. I've compiled an infographic with 16 Daily Affirmations to help encourage you.
Next, pour in some quick dissolving sea salt crystals made with turmeric root to help boost your natural radiance. Then take some time to use a scrub with coriander seed oil and avocado oil to take away impurities, cleanse your pores and reveal your radiant, brighter looking skin.
"Give yourself this moment to fill your cup." [Tweet this]
Remember, this is a moment to relax, rejuvenate, breathe, refresh, enjoy, nourish and renew you. Savour the moment. Be present. Suze Orman said, "No woman can control her destiny if she doesn't give to herself as much as she gives of herself." Give yourself this moment to fill your cup.
For your face, smooth on a creamy French pink clay mask to cleanse and draw out impurities while balancing your PH levels with hydrating rosemary oil. Transform yourself to your happy place with an invigorating body cleanser with skin conditioning alfalfa and chicory root extracts. Then soak up every drop of goodness by smoothing on a detox oil containing grape seed and sesame oils. It's perfect for a relaxing massage. For thirsty skin, use a lotion with anise seed oil, Shea butter and vitamin B5 to help your skin look softer and smoother.
Finally, if you're looking for a way to cool down. Liberally rub some Gelée made with juniper berry fruit oil, aromatic lavender and tangerine peel oils to soothe your tired muscles, hydrate your skin and help you feel a sense of balance and peace.
Fully immerse yourself in aromatherapy relaxation by transforming your bathtub into a blissful, beautiful oasis. If you're curious about the products I use to help me feel renewed. Click here to get the 16 Daily Affirmations Infographic and learn more about 'Rescue and Renew', my absolute favourite aromatherapy home spa products. Take a deep breath of these spa like scents to begin creating relaxing moments that promote even more peace and calm in your life.