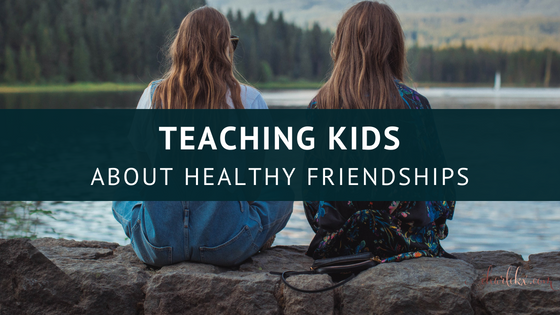 Helping our kids navigate friendships is so tough. There are times as moms, where we see that our child's friendship seems unhealthy, but we struggle with what to do to help our kids through those situations. I'm starting to realize, that a part of the approach to dealing with this issue, is helping our kids identify not only what kinds of friends they want to have but what kinds of friendships they should try to avoid.
So how would I describe an unhealthy friendship to my kids? Hmm, that's a tough one. However, if I were to hazard an approach, here's what I would do. I would encourage my kids to begin to take notice and observe their friendships a little more. When they share a piece of good news with their friend, I want my kids to notice if that friend seems happy for them or do they say something to brush it aside and act like it's no big deal, or do they respond with an even bigger more important thing that they did. I want my kids to be surrounded by friends who can receive and give encouragement. I'm also planning on asking my kids to observe their own pattern with their friends and adjust accordingly.
The other thing I'd like to encourage my kids to pay attention to is whether their friend is open to sharing them with other good friends or if they only want to keep the friendship isolated to the two of them. On the other hand, does their friend tend to ditch them when someone 'better' comes along?
I also want my kids to be aware of how their friends make them feel. When they hang out with their friend, do they feel encouraged and supported or does their friend say mean things to them, while sometimes even presenting it as 'just a joke'.
Establishing healthy friendships is an important lesson we can teach our kids. As we know all too well, our teaching tools can't only be verbal. We need to utilize other resources to help the life lessons we try and teach be even more effective. So how do you do that? Well, in a situation like this, it means taking the time to double check our friendships too. As moms, we've got to practice what we preach. So, if we have unhealthy friendships in our lives, maybe it's time to let them go. Share your realization with your kids, talk openly about your reasons for wanting healthier friendships and how you're going about distancing yourself from your unhealthy friend. Maybe watching your process of choosing healthier friendships, will inspire and motivate your child to choose healthier friendships for themselves too.